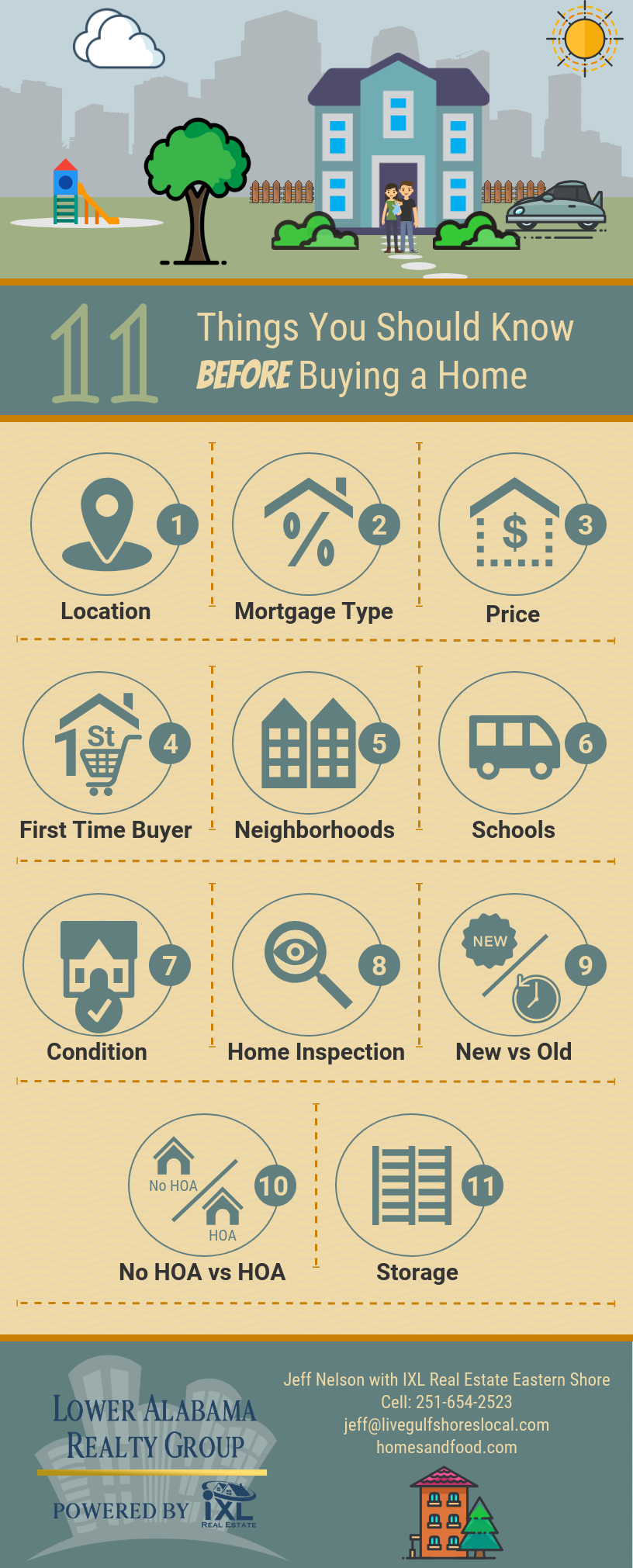 Will You Be Buying a Home? Here Are 11 Things You Need to Know Ahead of Time……
The location of your new home is one of the most important factors when you begin house hunting because it effects you now and later. Not only will location play a big part in your immediate future but it also has a huge impact in re-sale value or appreciation down the road.
How desirable will your property be to other buyers?
How convenient is it to shopping, schools, etc?
Always remember that you can control the condition of the property and what you're willing to pay but you just can't pick it up and move it to a better location.
When you're writing down what you need to have in a new home (yes, actually write them down), be sure to include where you want to live. What is going to be important to you? Sometimes home buyers are lured away to an undesirable location because homes are priced better.
Do you want to live in the country, on the outskirts of town, or right in the mix of it all?
Location dictates price and I have a great example. We have a very desirable part of town that is known as downtown Fairhope. You'll find a very quaint and charming area that doesn't have a large footprint but all of the homes around it are priced way higher than the rest of Fairhope.
The reason is demand. Buyers have forced prices to go up here because they "wanted" to live near downtown Fairhope. Desirability forces positive appreciation in homes so if you buy a home in a desirable area now, the chances are good that you'll sell at a profit later.
You also may be able to foresee that an area will become more desirable in the future. A working crystal ball doesn't exist but you may be able to notice a buzz among other home buyers and developers. Areas that were once somewhat neutral, may be one of the hottest areas to live in 5 years.

Unless you're paying cash, what type of mortgage you obtain will be something you'll want to know BEFORE you even begin to house hunt. Make plans to sit down with a couple of different lenders to talk about your options.
At the very least, you can submit an online application to get the ball rolling. Because there are several avenues you could take to get a home loan, you're going to need direct communication with someone to discuss the differences.
How much money do you need to put down?
Are the rates different, depending on what type of mortgage that you get?
Do you even qualify for low or no down payment options?
As a long time Realtor, I believe that home buyers should knock this out in the very early stages of making a purchase. First, you need to know that you qualify for before you fall in love with a home that you can't buy? Plus, you just need to know what to expect in terms of your monthly investment, rate, and down payment before you start blindly looking. By doing this, you'll walk into the home buying process with peace of mind, allowing you to focus on the property, not if you can afford it or not.
The price of a home can be one of the most thought about and mulled over aspect of the whole process. Thankfully, this is one of the cogs in the wheel that can be adjusted (unlike location). If you think about it, the majority of home buyers are going online to look for homes and are mainly focused on the pictures. Sure they put in a price range but people are subconsciously making decisions based on what they're seeing on the internet.
It is so easy to get emotionally attached to a property, especially when you think that you have "found the one" but you MUST see if the home is priced correctly. Yes, there are other factors to consider like what kind of market you're in and how big is demand but if you're in a steady market, you shouldn't be expected to overpay for a house.
This would be one of many times to lean on your Realtor to research how the home is priced and to negotiate the best price in your favor.
A first time home buyer may feel like a fish out of water or out of their element, as well they should. There are so many aspects to the home buying process that could literally cost them thousands of dollars and a lot of stress.
If you are buying for the first time, you should know that are benefits that are available to you that mainly deal with getting a mortgage. Zero to low down payment options are out there and most first time buyers would probably qualify for them.
Another thing you should know before buying a home is all the costs that go into the purchase. Even if you're able to qualify for a low down payment mortgage, you're still going to have other costs that will add up like:
Closing costs
Appraisal
Home inspection
Pest inspection
Earnest money deposit
and deposits for utilities if necessary
You may be making great money but if you're wanting to own you very first home, get in the practice of saving more and spending less.


Have you ever loved a house but hated the neighborhood? Did you buy the house anyway? I recently sold a house to a client where the neighborhood itself was just fine but behind the neighborhood was a large landfill. Of course I brought it to their attention but they decided to buy anyway. For them it wasn't a big deal but another buyer may think it could effect their re-sale value down the road.
Generally speaking, if you have a thought that is anything but positive about a neighborhood other buyers will feel the same way too. For instance, if you think that a particular subdivision has an entrance that's tough to get out of in the morning, that could effect you selling the property 10 years from now.
Also, do your best to foresee the future (I know it's tough to do). If it appears that a particular neighborhood is attracting more millennials because the properties cost a little less than the "posh" area on the other side of town, you may have a winner. If all of the homes in an area are staying on the market longer than what is typical, you may have a future problem on your hands.


Whether you have kids or not, buying a home in a great school district is a good move because resale value is always stronger. You need to know this before you start house hunting. When I talk to new buyers, I am often asked how good the schools are in a particular area. Buyers are driven to better districts which increases demand which increases value.
As you are seeing peppered throughout this article, you not only should know what to look for in a house for the present but also for the future.
If you purchase a property in the worst school district (despite how great the house looks), you'll have a harder time selling in the future and you'll get less money. That's just how it goes. That's of course presuming the school district doesn't drastically improve.


Unlike a property's location, you can always change the condition of a home. That being said, you have to know what your limitations are and how far are you willing to improve. If the living room just needs to be painted or it needs new flooring – that's one thing. If there are major foundation issues – that's another.
When I advise new clients on how to prepare their home to sell, I always tell them that buyers are looking for a property that requires less work after closing. That's true for the most part, especially if the work is just cosmetic. Here are some questions to ask yourself when considering the condition of a home:
How much work am I willing to do?
Does the price of the home reflect the needed repairs?
Does the layout of this home work for me?
Do I have the time to get this house where I need it?
Do I have the money?
Can I live with these conditions in order to be in this area?


Speaking of saving money to buy a home, you'll need to have somewhere around $400 to get a professional home inspection performed on your new property. I always tell my clients that every home should have a home inspection (yes, even new construction).
You need to know exactly what you're about to spend hundreds of thousands of dollars on and that goes for everything, not just what you can see on the surface. Sure, it may look like a picture perfect residence straight off of HGTV but what is unseen could cost you.
The home inspection is one of the best contingencies and negotiating tools that a buyer has in the transaction so don't sweep this one under the rug. No matter how the property looks or how you feel about it, there could be a deal-breaker lurking in the attic….or behind the walls……or in the crawlspace.

If your community is anything like ours in lower Alabama, we have a ton of new construction going on. While you're going through the motions of being an informed home buyer, know what you want in terms of the age of the property. Sure, a brand new home is always better, right? Well, there are so many factors that come into play other than just the age of the home.
New homes are likely more expensive so you may have to give up on square feet or the area where you want to live in order to buy new construction.
Another factor that is important to many home buyers is the presence of mature trees. You will often find that new developments are created in rural parts of town that were once farm land.
On the other hand, new construction usually has 2 year warranties on the systems of the house and a 10 year warranty on the foundation (plus individual warranties on all of the appliances). Those are huge benefits. Every aspect of buying a home is taste sensitive so you need to know what's important to you.


I think everyone would agree that there are good and bad aspects to living in a neighborhood with an HOA or Home Owner's Association.
The Good
You're paying to have someone keep up and maintain your subdivision including the entrance, signage, common areas, and amenities.
We should embellish on the last part of that sentence….If your neighborhood has a pool, clubhouse, tennis courts, etc.., you get to enjoy it and don't have to maintain it! For those who personally own a pool, you know that's pretty awesome.
Rules and regulations (also called covenants) are in place to maintain a certain level of integrity for the overall good of the home owners. For instance, if you live in an HOA, you can rest assure that your next door neighbor won't have a llama farm.
The Bad
If the thought enters you head, "why would I ever have someone tell me what I can do with my own property?", you may not want to live in a neighborhood with an HOA.
Yes, you may have a couple of "neighborhood nazis" that live down the street who are quick to tell you that your trash can was left out at the road an hour too long.
While most HOA's are not too stringent, you should determine whether it's right for you and know ahead of time what homes meet what you want. Your Realtor should be able to easily send you properties that aren't in an HOA if that's what you need.

Here's one that you won't see on too many lists for buying a home – storage space. Sometimes, we buyers get so caught up in the aesthetics of a property that we overlook the functionality of the home.
I think most of us are famous for accumulating a lot of stuff overtime. But, what if you choose a home that has a "vogue" kitchen and you later realize that closet space is less than desirable? Ooops….
When buying you need to know everything about all of the aspects of the property including having a place for everything that you own. I know this sounds elementary but many buyers are often downsizing into smaller homes. Speaking of downsizing, I personally would much rather get rid of excess "stuff" before moving than after I closed on the new house. So, be sure to check for adequate storage space in the closets, garage, attic, or even the backyard shed.
If not, I see many trips to Goodwill in your future….
Additional Resources for Buying a Home: