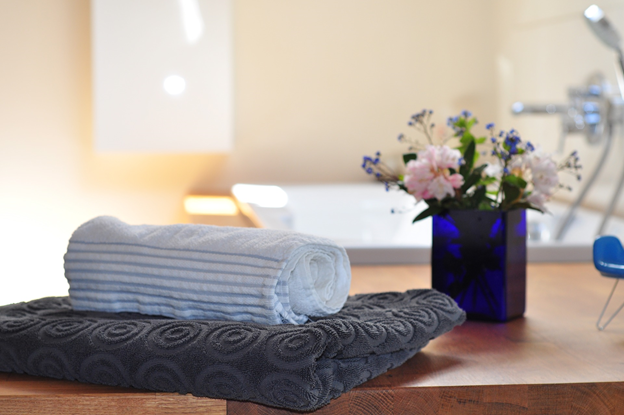 You don't have to fill your new "together" home with your partner with fancy towels and updated lighting, but you should. Not only do small upgrades to your home and decor improve your house's value, but they will also enhance your quality of life. Here are a few ideas for your new digs that will make an average house an exceptional home for you and your partner.

In the Bathroom

A hot bath won't be nearly as relaxing if you step onto a cold floor and dry off with a scratchy, threadbare towel. Consider giving your bathroom a serene, spa-like makeover. Teal walls with white wainscoting around the perimeter, a few candles, and thick, beach-sized towels will go a long way toward turning your bathroom from humdrum to here I come. Bed Bath & Beyond is a one-stop shop for everything you need to get the job done — the retail giant even offers extra discounts on top of their ever-present 20-percent-off offer, plus you can find extra cashback offers if you look online. Tuesday Morning, Ross, and HomeGoods also have an extensive and always-rotating selection of name-brand bath decor.

Bedroom



The bedroom is another place where you should pay attention when it comes to creature comforts. A high-quality sheet set, light-blocking curtains, and pillows designed for your sleep style are little touches that have a big impact on your ability to get a good night's sleep. Look online for the best deals via favorite online shopping portals like Amazon, Nordstrom, and Kohl's. If you're tired of putting your feet down on hardwood floors but don't want to spend $1,000 on a rug, brick-and-mortar stores are great places for mid-line floor coverings that won't completely bust your budget. You can save money by using Kohl's discount codes and coupons.

Patio



Outdoor entertaining is made much simpler when you have a space for everyone to sit, mix, and mingle. The best part about your outdoor space is that the pieces don't have to match, because eclectic looks are in style. If you insist on a cohesive theme, most experts recommend August and September as your best times to snag a deal on patio furniture. If you're not sure what style suits you, search online for the most popular materials: aluminum, steel, resin, wood, wicker, and plastic. The Wirecutter reviews their favorite patio sets that cost less than $800.

Kitchen



We've all got to eat, and chances are that you'll be cooking dinner tonight. Outfit your kitchen with both stylish and functional items by looking at deals through Zulily or Groupon. You can also upgrade your kitchen counters from pressboard and laminate to surprisingly affordable granite, a project which often costs less than $1,000, depending on how much counter space you have.
Living Room

If you're like the rest of us, you likely spend lots of time hanging out on the living room couch. Whether you're binging on Netflix or simply relaxing with a glass of wine, your gathering space matters. Invest in quality furniture — preferably leather, since it's easy to clean. A set of throw pillows, a nice blanket, and a few live plants will make the room feel cozy and comfortable.

Keep in mind that when you combine households, there will be lots of give-and-take. Sit down with your new spouse or partner to get an idea of your style and make a game plan for how to turn two houses full of stuff into a home. When all else fails, toss everything in the front yard, have a garage sale, and put your newfound wealth to good use outfitting your home with amenities meant for two (or more).

Image via Pixabay
This article was provided by guest poster, Erin Reynolds of diymama.net. This single mother offers tips and advice about various home improvement projects and how to save money around the house.