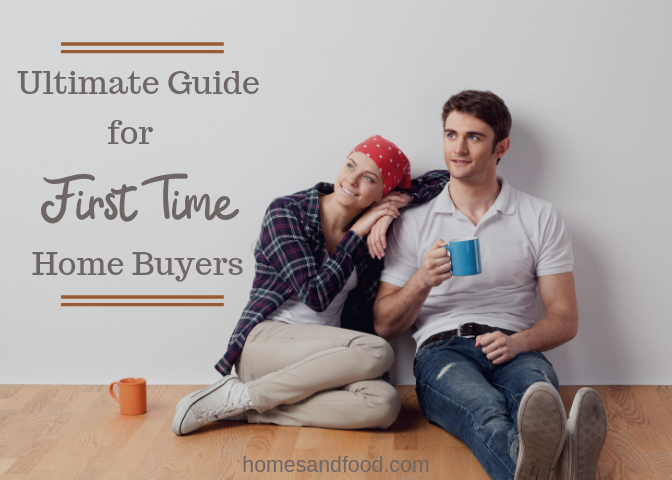 So you're thinking about buying your very first home? Well, you're not alone. The National Association of Realtors states that 33% of all homes that closed in 2018 were purchased by first timers. In addition to that, check these numbers out:
20% of millennials expect to buy a home in the next year – National Association of Home Builders
70% of millennial first time home buyers were willing to cut back on weekend activities if they knew they could buy a home in the next year – Chase "Readying to Buy"
48% of millennials who have been married owned a home before marriage. – Inman.com
29% of first time buyers were motivated to buy because of the home's proximity to work.
20% bought due to proximity to schools
16% bought due to proximity to leisure activities
52% of first time buyers feel ready to buy a home – Chase "Readying to Buy"
The average age of first time home buyers is 32. – National Association of Realtors
If you are a first time home buyer, you have likely been renting for some time. Plus, you may have been wondering if you should keep renting or buy a place. Here are some things to consider….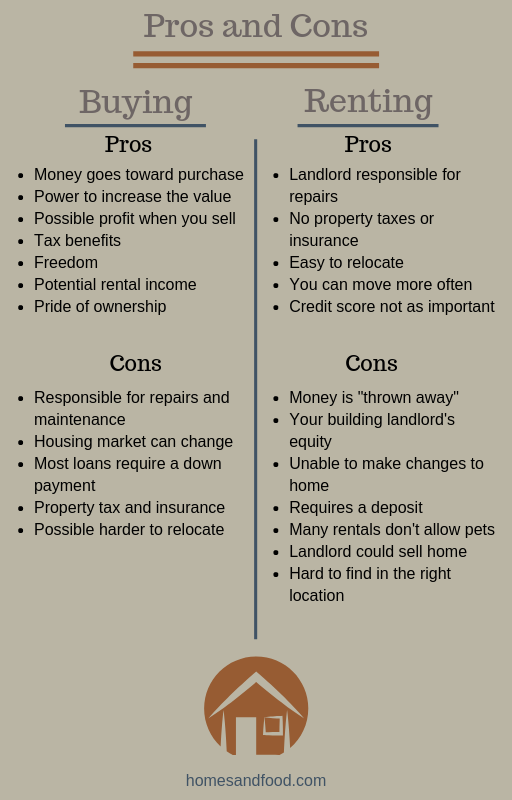 You've probably heard the phrase, "success happens when opportunity and preparedness meet". That is so true when buying your first home. By being totally prepared, you can walk into any situation with confidence, knowing what the outcome will be (owning a home in this case). So……
Are You Ready to Buy a Home?
You might be in your mid to late 20's, have a great job, and you're thinking about settling down. On top of that, all of your friends are doing the same and you see them one by one purchasing their first property. Tip: Make sure not to jump into something just because everyone else is. Peer pressure should have ended in high school, right? Buy a home because you're ready to buy and want to, not "just" because the market is right or the interest rates are low.
Buying real estate is one of the biggest financial decisions that you'll make in your life and buying a home prematurely can effect you negatively for decades.
Ask yourself these questions to see if you're ready to buy your first home….
How reliable is your job and income?
Lenders will want to see that you are gainfully employed (of course) and they will want to see the last 2 years of your tax returns. Be prepared to be able to present all of the necessary documents that are required from the mortgage lender, which may include recent pay stubs. Being self-employed is another animal but as long as you have your past tax returns, you should be fine.
If you have a solid job and income, the next question will be…..
How much debt do you have?
In general, lenders like to see that the debt that only pertains to housing costs does not exceed 28% of your gross monthly income and all monthly debt obligations should be lower than 36%. There is a little leeway here though. Depending on your down payment, credit, savings, and assets, lenders may except a higher ratio.
Tip: According to Luke Skar of Madison Mortgage Guys, One of the biggest mistakes buyers make is piling on new debt. Don't add any new debt after you get pre-approved by a lender. The lender has qualified you based on your debt at the time of your application. Any changes to this could drastically change the outcome of your loan.
What is your credit score?
In order for you to qualify for a mortgage loan the lender will be scrutinizing 3 major areas: debt, assets, and credit score. Your credit score plays such a huge role because it not only determines if you can even get a loan but it also determines what rate you're able to obtain. The higher your score, the lower your interest rate. The lower your interest rate, the lower your monthly payment.
Simple as that! As always, protect that score. Tip: It may take time to increase your score so be sure to start this process early. Eric Jeanette of Dream Home Financing says that there are several mortgage programs for first time home buyers but borrowers can literally save thousands of dollars by improving their scores.
Here are 4 ways to improve your credit score:
Contact the 3 major credit bureaus (Equifax, TransUnion, and Experian) to report any errors.
Pay down on as much credit card debt as you can.
Pay off smaller balances.
Always pay your bills on time.
Always remember that your credit score will dictate how much you will have to put down, how much you can borrow, and what the terms of your loan will be.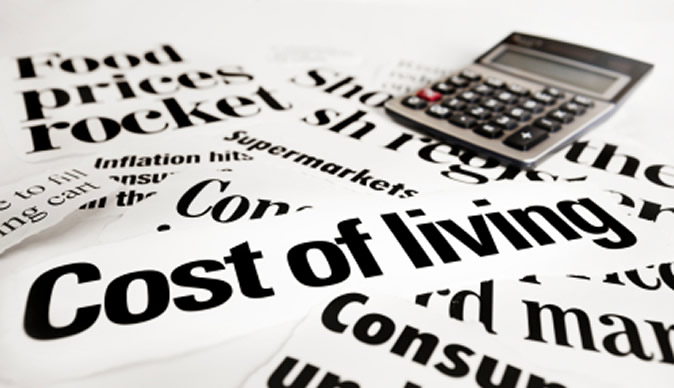 How much can you afford?
You may be able to qualify for a bigger mortgage payment than you actually want to pay. Tip: Resist the urge to "go big or go home". Your lender may tell you that you qualify for a $300,000 home but you only feel comfortable with payments on a $250,000 home.
Tip: Online mortgage calculators only give you part of your monthly payment – principal and interest. However, your mortgage payment will likely be made up of principal, interest, taxes, and insurance (or PITI).
Principal – The amount that you borrow.
Interest – The amount that the lender charges you to borrow.
Taxes – Your property taxes that are paid to the state and the county. You'll take the annual tax and simply divide by 12.
Insurance – Home owner's insurance for wind and hail (and possibly flood).
How much cash do you have on hand?
Typical costs that go along with buying a home are:
Earnest Money Deposit

– When you present an offer to the seller, you need to present a "good faith" deposit or Earnest Money Deposit. The EMD can be any amount but you should ask your Realtor what is typical for your area. As long as you don't default on your contract, your EMD will be credited back to you at closing.

Down Payment

– When buying your first home or tenth home, you'll be required to pay anywhere from 3%-5% as a down payment UNLESS you qualify for a mortgage program that doesn't require a down payment. Ask your loan officer about this. There are many homes that are purchased around the country with no down payment.

Closing Costs

– The buyer and the seller will have their own separate closing costs to pay. As a buyer, closing costs can run around 3%-4% of the sales price depending on a variety of factors. Your loan officer will give you a good faith estimate for the amount of closing costs you should expect to see. Also, you can negotiate in the offer that the seller pay some or all of your closing costs. For more information on this, Petra Norris of the Lakeland Real Estate Group has a great article detailing all possible closing costs.

Inspections and Appraisal

– You will absolutely want to pay for a home inspection whether the home is existing or new construction. This will run you around $350 or so depending on the size of the property. The appraisal is sometimes paid for upfront by you or included in your closing costs. Ask your lender how they charge for the appraisal.
So, you will need some cash for reserve funds, inspections, the EMD, closing costs, and/or the down payment. Every real estate transaction is different so you may need cash for all or some of these items. Get with your Realtor and lender to see what is needed in your case.
Get Pre-Approved
After examining your finances on a personal level, it's time to get a loan officer involved. The first step will be to contact your bank or other mortgage lender. An even better choice would be to contact someone you know who has already worked with a particular loan officer. This way you can piggy-back off of their experience.
As with any profession, there are good and bad apples in the basket so the more you know the better.
Your first point of contact will more than likely be by phone or either through an online application, like this one from Brian Lynch of Movement Mortgage – Orange Beach. You'll give some basic information about yourself, then a loan officer will likely be able to "pre-qualify" you based on this information.
Getting pre-qualified is great but what's more important is becoming pre-approved. Pre-Approval happens when the loan officer confirms all of your information by "verifying" your income, credit score, and debt. Tip: Before seriously looking at homes, you want to be pre-approved for a certain amount so you're not wasting time and playing with your emotions by considering properties that are out of your league.
To get pre-approved you will need to provide the following:
Tax returns for the last 2 years
Bank statements for the last 2 months
The source of your down payment
Copy of driver's license
Copy of social security card
Tip: Check for first time buyer loan programs with different lenders. There are options.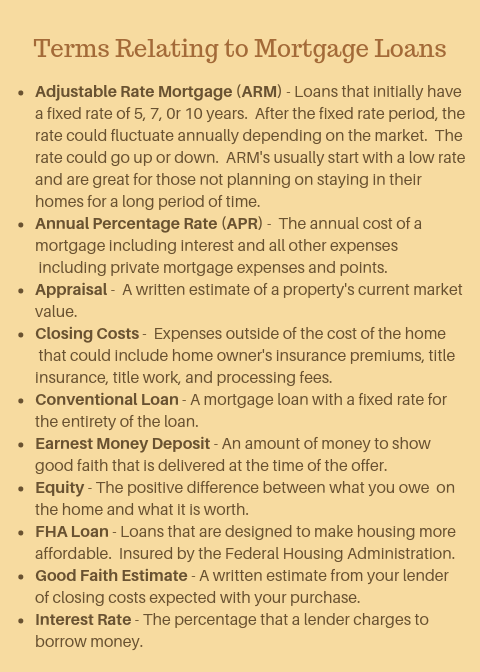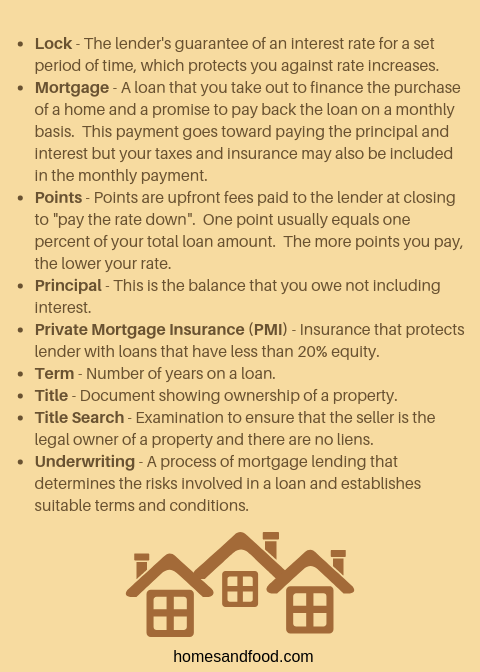 There are all kinds of mortgage loans out there so it's important to do a little research and talk to your lender. Learning about fixed rates, adjustable rates, and government backed loans can make you dizzy so just relax and get some advice from the pros. For instance, you can read from Anita Clark of Coldwell Banker, where she explains the different loan options for first time buyers.

Work with a Realtor

It doesn't matter if you're a first time home buyer or you're working on your 10th real estate transaction, it only makes sense to work with a Realtor. Here's why:
It's free. Yes, that's right. The seller pays all commissions in a real estate transaction so when a buyer uses a buyer's agent (which is most of the time), the commission is split between the listing agent and buyer's agent. You pay nothing to get full representation. Michelle Gibson of the Hansen Real Estate Group also talks about this in her article, 9 Shocking Facts Home Buyers Don't Know.
A buyer's agent knows what to look for in a property. They'll see potential problem areas that you may overlook like mold, structure problems, and other items that could effect you.
They know the market and analyze real estate market conditions. Because they have their finger on the pulse of the market, they can keep you from overpaying which can save you thousands.
They will coordinate all showings based on your search criteria. You just show up.
They know real estate contracts and how to protect your best interests.
A buyer's agent already has a team of other professionals that you will need during your transaction.
They will negotiate on your behalf. You have someone in your corner looking after your best interests.
They will keep your contract on track, abiding by all timelines and deadlines.
They orchestrate everything.
and again, it doesn't cost you anything.
For more information about this, read Lynn Pineda's article. She's from eXp Realty and writes about what home buyers wish they had known before buying a home. One of those confessions was how buying a home directly from the listing agent doesn't benefit you.
Determine Your Needs and Wants
When I work with a client, I strive to get them all of their needs and as many of their "wants" as possible. All of which has to fall into their budget. You may need 4 bedrooms and want a pool but both aren't available in the school district that you want for $250,000. Get the picture?
After the buyer determines what they are comfortable paying for a home, I always advise them to physically write their needs and wants on a sheet of paper. This way, they will have a clear picture of where they have to compromise if necessary.
Location, Location, Location
When buying your first home, you'll have the opportunity to pick exactly what you want (according to your budget) and where you want it. Tip: When considering your home purchase, not only think about how it relates to you now but also think about the future. How hard will the home be to resell down the road?
You'll want to look at school districts even if you don't have kids. Look at crime rates. How is the traffic in a particular area? Do you want to be close to shopping, venues, and restaurants? Think about the "undesirables" that could effect your home sale years from now like a power line running through the backyard, traffic noise, planes flying low, ect…
Take it from Sharon Paxson of Compass. She mentions that one of the biggest mistakes first home buyers make is not considering the area.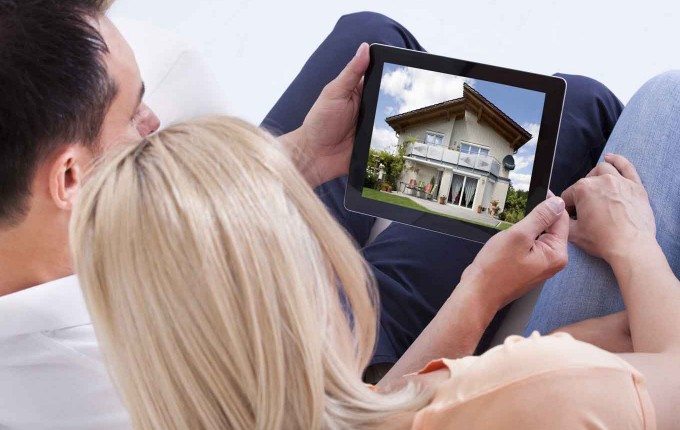 Find the Perfect Home
Now, that may need to be re-phrased to "Find the perfect home for you according to what you can afford".

Once you have your budget and you have a clear idea of what's important to you in a home, it's time to start house hunting.
Keep an Open Mind
You have several options when you purchase, like buying a:
condo
townhome
single family home
home in the city
home on the outskirts of town
home with a big yard or none at all
You may have to think outside the box based on your needs and wants so be open to ideas from your Realtor.
Are you willing to drive an extra 20 miles to work to get the house you want?
Would you rather pay more for the downtown condo so you can be close to entertainment?
Do you want to be able to walk to work?
Can you convert an extra room into a bedroom in order to be in the right school district?
The questions are endless but they are important to ask yourself.
Analyze and Scrutinize
It only makes sense to know the area that you're buying in. You and your Realtor both play a role in this. When you find a neighborhood that you like, you can drive by at different times of the day and night to "get the feel" of the area. Your Realtor will be able to dig into the historical data of the area to see what the real estate trends are. They'll be able to tell if properties are appreciating at a fast or slow pace. They can see if a neighborhood is in demand or is dragging along. All of these points and more are important to consider.
Listings
At this point, your Realtor will take everything into consideration and develop your search criteria for your new home. You should have this list emailed to you with what's currently on the market and you should be notified when something new comes on the market.
Most Realtors around the country have access to some system that saves your search and notifies you automatically. In my area, it's called a Collaboration Center. Here's how ours looks….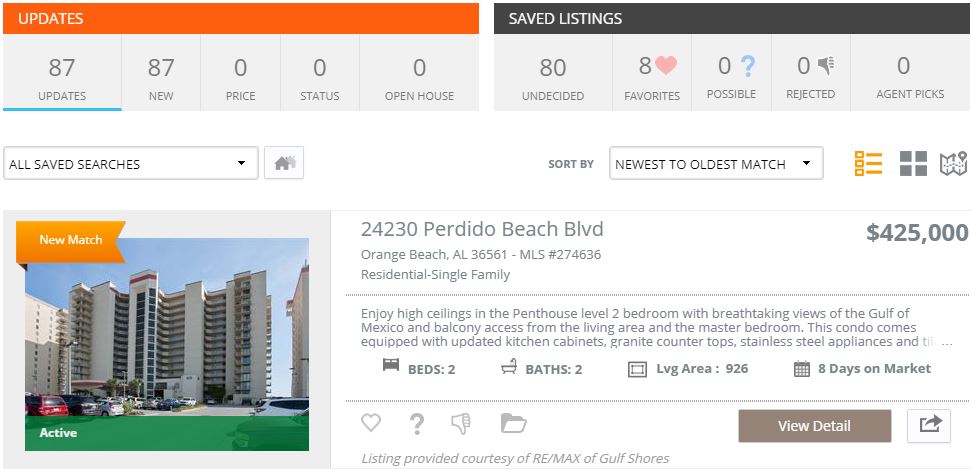 I put in the specific search criteria of my client and they receive their own web page (above picture). Our system is very interactive allowing clients to favorite a property or reject it or keep it undecided. They can take notes, share it, and a lot more. They are automatically notified every time a new property that matches their search criteria hits the market.
Your Realtor may have a different system but I'm sure they have something similar. From here you're able narrow down your favorites to the handful that you actually want to see in person.
House Hunting
Let the fun begin! It's always exciting to tour homes with the expectation of actually buying one. You start to see yourself living there. You picture making coffee. You see your furniture in the living room. You can visualize the kids playing in the backyard
House hunting is fun but the best part is, your Realtor schedules everything with the seller and listing agent. Based on a time that is convenient for you, your Realtor will line up the appointments, meet you there, and advise you. You've done a lot of legwork up to this point so now it's time to get serious about finding the perfect home for you!

You've done everything right up to this point from deciding what you can afford to determining your needs and wants. Now, you're ready to make an offer. It's at this moment when your buyer's agent will show their real expertise. You see, there is a fine line between getting you the best possible price while not totally disgusting the seller with a low ball offer. Jamohl Dewald from JD PDX Real Estate says it best with his tip for the first time home buyer….When it comes to your offer, think competitive but reasonable. Over the years I've seen buyers (who think they know it all) decide to come in with a grossly low offer and the seller is so irritated that they don't even spend the time to give the buyer a counter offer.
Don't lose the battle before you even get started!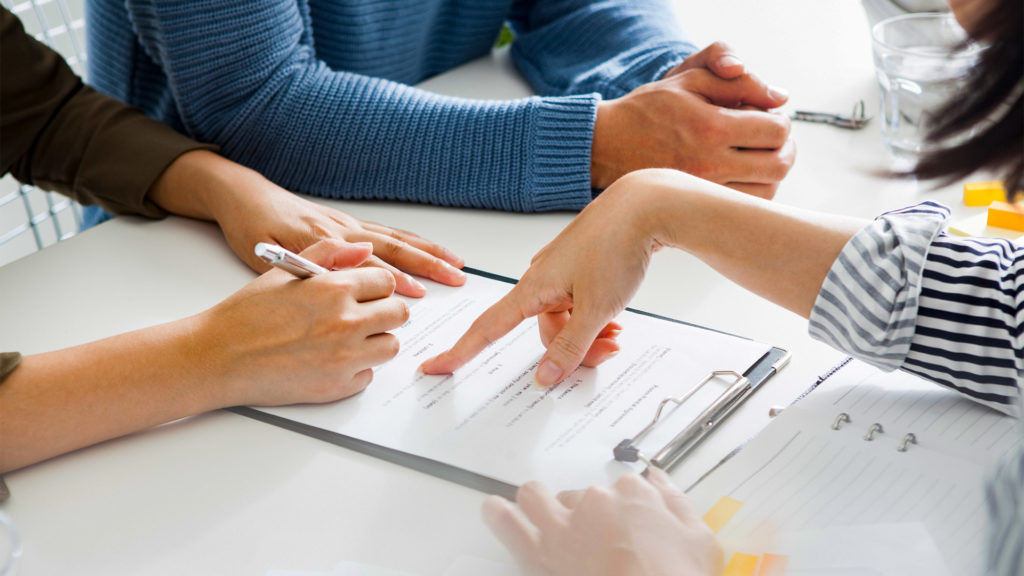 Prior to Making Your Offer
After you have zeroed in on one particular property, you need to find out how the home is priced. Chances are, the buyer hasn't taken the time and energy to identify the value of the property. No fear, this is where your Realtor comes in (again). Your Realtor will do a Comparative Market Analysis of the property that you want to purchase.
Depending on your area and real estate conditions, the home might be over-priced, under-priced, or just right. After selling homes for over 13 years, I've seen buyer's markets, seller's markets, and balanced markets. The majority of the time, homes will be "at least" slightly over-priced.
Remember the goal of the buyer's agent is to get you the best possible price with the best possible terms.
Unless you're in a strong seller's market where there are more buyers than homes for sale, you shouldn't be expected to pay more than what the home is worth. Your Realtor will advise you on the best offer price based on similar home sales and demand.
Inspections
Tip: Putting it bluntly, don't ever buy a house without getting a home inspection whether the property is 100 years old or just completed. Yes, you should even get your own inspection on new construction. People do make mistakes, even the city or county inspectors prior to providing a Certificate of Occupancy. I've seen it happen over and over again.
Paying for your own home inspection will not only give you a detailed report of the property but it is also the "Ace up your sleeve" when it comes to contingencies (which you'll read about next).
In addition to the home inspection, you'll have a termite and moisture inspection, and the appraisal. Depending on your particular property, you may also need to get a survey, well/septic inspection, and/or radon inspection.
Contingencies and Other Terms of the Contract
One of the biggest fears that home buyers have when buying a home is the thought of overlooking something with the real estate contract, which is another reason you should have a Realtor. There are multiple disclosures, disclaimers, terms, and contingencies in every real estate contract.
Most of the disclosures are just "boiler plate" legal jargon but contingencies are fluid. A contingency gives the parties of a real estate contract to right to back out of the deal under certain circumstances that must be negotiated by the buyer and seller.
Typical contingencies include:
Inspections
Financing
Appraisal
Title
Home Sale
With the exception of the Home Sale Contingency (when a buyer has to sell before buying), all of these contingencies will probably be present in your offer.
For instance, when you receive your home inspection report and ask the seller to make certain repairs, you'll request that the seller make certain repairs. If the seller refuses to make them, you can leave the contract legally. You will not be in default as long as you met the deadline. Danny Margagliano of 30A Local Properties goes into more detail with his article about repairs to make before closing. Check it out.
Other terms of the contract will include the closing day. To make a contract legal, you must have an ending date (the date that you close and get the keys). So, all of these factors are considered when coming up with a competitive but reasonable offer to purchase.

You may have started the home buying process last year or 45 days ago but now the time has come to get the keys to your new home. The long journey from first time home buyer to home owner is nearly complete. All you have to do is sign some paperwork, give the title company the rest of the money that's required (closing costs and down payment if needed), and it's all yours.
At closing, the title will be transferred from the seller to the buyer, proceeds of the sale are dispersed to the seller, and the buyer will sign the mortgage note (if financed).
Who will be at closing?
This may differ around the country but in our area it will be you, the title agent (or closing attorney), and your Realtor. Sellers usually close on their own at a different time.
What will you need to bring to closing?
Everyone who is signing will need to bring their driver's license. You'll also bring a cashier's check (not a personal check) for the amount you owe. It's not typical to need it but bring your checkbook just in case.
What will you be signing?
You'll sign the Closing Disclosure which was formally known as the HUD-1. This includes the terms of your loan, payments, fees, and other closing costs of the transaction. You'll also sign the deed, the mortgage, loan application, and any other loan documents.
The closing agent is there to finalize the real estate transaction with you and they will explain every document that is presented to you. However, try not to let your eyes glaze over too much. It's important for you and your Realtor to listen carefully to make sure that everything is accurate.
After you're done signing, the documents are recorded at the courthouse and you are officially a home owner!
Being a first time home owner can be overwhelming and it may seem like a daunting task. However, if you follow this guide and use your Realtor, the whole process will go smoother than you think.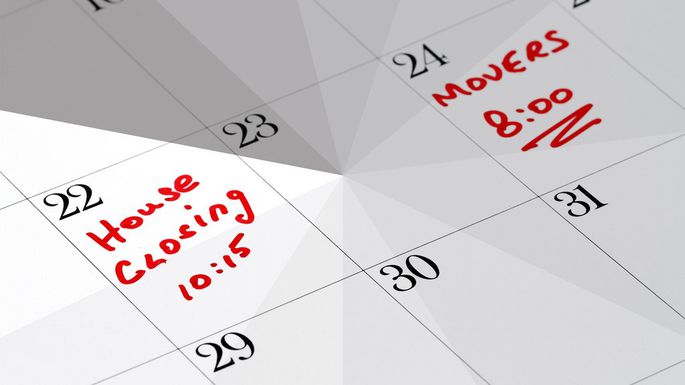 Additional Resources for the First Time Home Buyer: